1. Choose Products
Browse the store and select the pronto codes of the products you want.
2. Choose a plan
Select how long you want the term of the credit plan – from up to 24 months.
3. Apply in store
Come into your local Brian Bell Homecentre and see a Customer Credit Representative to complete the simple application form.
What is Customer Credit
It's a credit facility, in partnership with Finance Corporation Ltd, for approved Brian Bell customers
We partner with major Corporate & Government organisations
It's an easy and reliable credit facility for our valued customers
It's a service that allows our customers more choices
Allows customers to purchase products now and pay off over time
Customer Credit benefits
Easy and simple application process
Progressive payments up to 24 months
Brian Bell after sales service guarantee
Acquire quality branded products from all Brian Bell Homecentres
Option to collect items in other Brian Bell Homecentre locations
Enjoy new household items at affordable pricing on credit
Use the product as you pay for it
Improve your standard of living
Customer Credit Scheme Policy
No deposit required
Minimum accumulated purchases is K200.00
No application fee
Maximum purchase value – determined by Long Service Leave entitlement and net pay/salary
Fortnightly deductions cannot exceed 50% of net pay
Total purchase value (including purchase charge) must not exceed 50% of LSL
First deduction must commence prior to collection/delivery of goods
Applying for Customer Credit
Companies must be registered with Brian Bell Customer Credit before an employee can apply for Customer Credit
It's an easy registration process
Companies facilitate salary deductions to FinCorp Ltd once an employee has been approved for credit
Customer's employment status must be full time/permanent
Companies provide payroll deductions to Brian Bell Customer Credit once an employee has been established for credit
Employees must be employed for a minimum of three (3) years with the company
A Customer Credit customer must be employed full-time
Credit Customers are responsible for completing all loan repayments
No limit on the number of employees that can apply for credit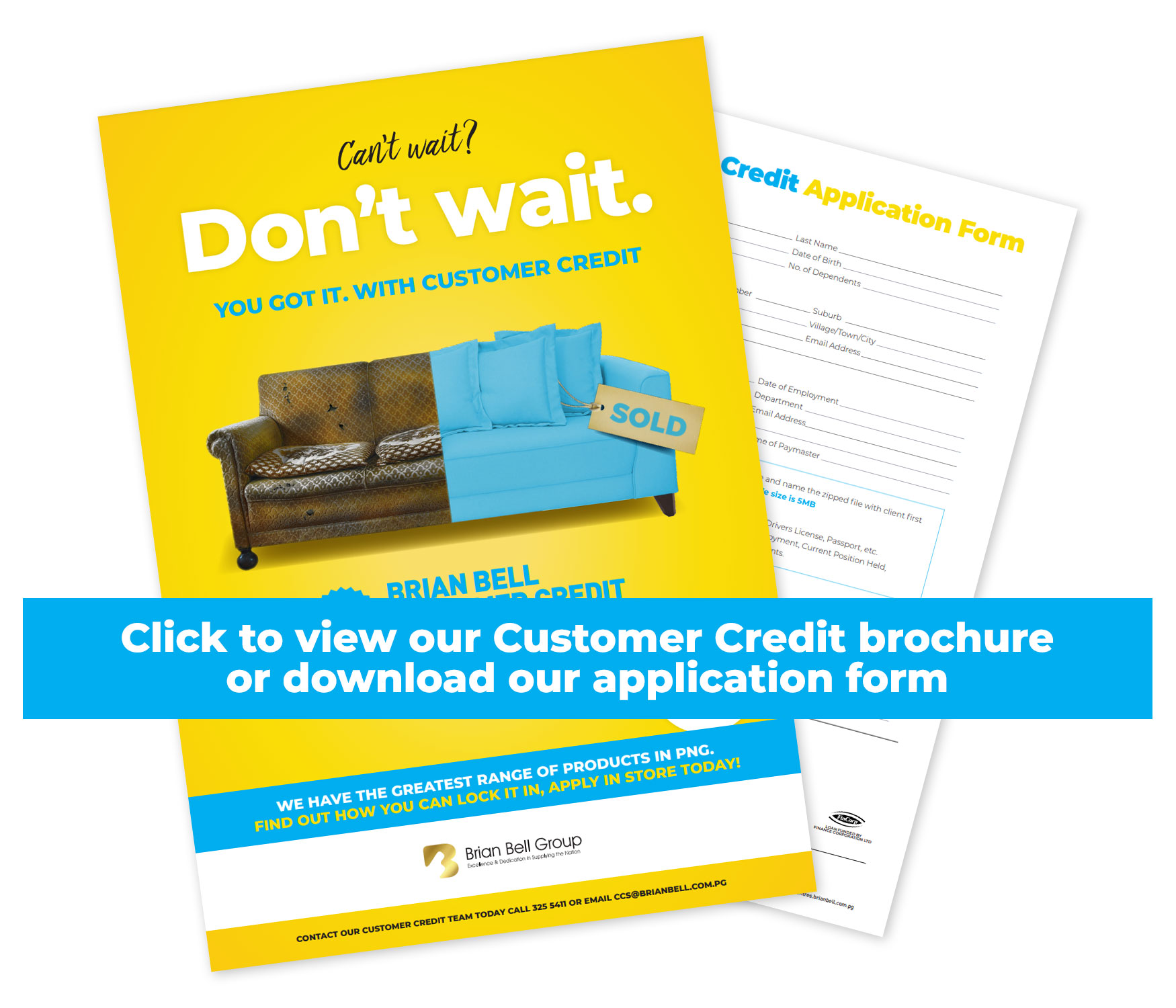 1) Download the PDF to your computer.
2) Open and complete the application form.
3) Save the PDF.
4) Once completed send it to: ccs@brianbell.com.pg